TOTLAND BAY.
This charming seaside resort has risen into great importance during the last ten years, and is running some of the eastern towns of the island very closely for the post of honour.
During the season there is a regular Boat Service between Lymington and Totland Bay in connection with the trains from Waterloo. The new railway has opened communication with Newport and all the principal towns in the Island - the terminus being at Freshwater, a little over a mile distant. There is also frequent communication by steamboat with Bournemouth and other places on the sea-coast.
The air is bracing and the climate pronounced by eminent physicians to be unsurpassed by that of any part of England. The sands are remarkably white and firm, and the Bay is largely used as a yachting station. An iron pier, 450 feet in length forms an admirable promenade and landing place.
Totland Bay has a Parish Church, erected in 1875, when the parish was divided from Freshwater for ecclesiastical purposes. The church was built at a cast of £3,800, and was further enlarged in 1885, its capacity now being sufficient for 500 worshippers.
There is a Roman Catholic Chapel, which is attached to the manorial residence of Mr Edmund Granville Ward, J.P.
A first-class family hotel, named after the place, and opened in 1880, makes ample provision for those who prefer hotel life to that of ordinary residences. It is admirably managed, and equipped with almost every conceivable convenience. Golf, cricket, and tennis clubs have been formed here, and are open to visitors.
Letters arrive from School Green Post Office for delivery at 8.30 a.m., and 3 p.m., and are dispatched at 10.30 a.m. and 5.15 p.m. Sundays, 10.20 a.m. " {Yarmouth}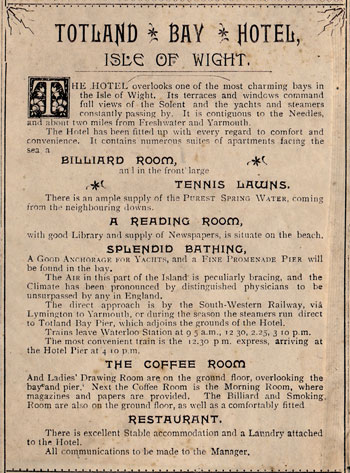 The Minerva Isle of Wight Pictorial and Guide - circa 1900
---