BEMBRIDGE.
"In former times visitors from Ryde to Bembridge either had to pass across the marsh of the harbour on the ferry boat or make a wide detour though Brading. A few years ago, however, the Brading Harbour Company threw a dam across the harbour, shutting oil the sea from 50 acres of land, which was reclaimed for building and agricultural purposes. A public road was made along the embankment across the harbour, and alongside of this road was run a railroad between St. Helens and Bembridge. The company also built the spacious Royal Spithead hotel at Bembridge in 1882. There is direct steamboat communication between Portsmouth and Bembridge during the summer months, the steamer running alongside a jetty in the harbour. By rail Bembridge is in direct communication with Brading, where passengers change for Ryde, Ventnor, Newport, Freshwater. &c.
Holy Trinity Church at Bembridge is a stone building in the Early English style, consisting of nave of five bays, south aisle, north and south porches, and chancel, with western tower and spire, clock, and three bells. A stained- glass window at the west end of a nave is to the memory of the Rev Sir Henry Thompson, the first incumbent of Bembridge from 1827 to 1835. The east window of the south chancel aisle was erected by the inhabitants to the memory of Miss Elizabeth Cope, who died in 1863. There are other interesting memorial windows in the church.
DEUCIE AVENUE, BEMBRIDGE.
There is also a Wesleyan Chapel in the village, and plenty of accommodation for visitors. It is an exceedingly pretty place, at the extremity of a peninsula on the south borders of Brading Harbour.
Letters arrive at 8.30 a.m. and 2 p.m. for local delivery, and are dispatched at 10 a.m. and 7 p.m.
Proceeding in a south-westerly direction, we pass a pretty retired nook, Whitecliff Bay, which we have no doubt will some day be among the popular resorts of the Isle of Wight. Then stands before us in bold relief at the summit of the down a granite obelisk, erected by subscription, in memory of the second Earl of Yarborough, in 1849. It was first erected on the brow of the down, but afterwards removed to its present position to clear the site for the Bembridge Fort. The monument is a conspicuous mark from land and sea. A mile in the same direction brings us to ......." {Yaverland}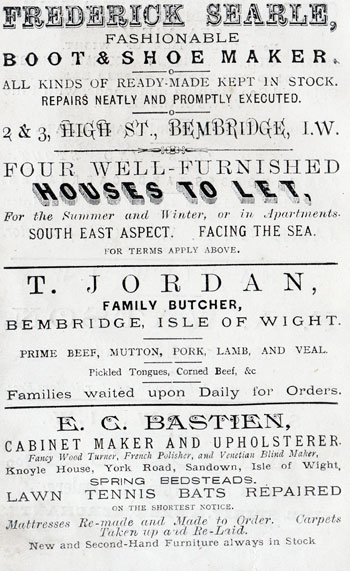 The Minerva Isle of Wight Pictorial and Guide - circa 1900
---