Hoverwork BHT130
(British Hovercraft Technology - 130 passengers)
The BHT130 hovercraft has a 20 tonne or 131 passengers payload, designed by Hoverwork and fitted out at their St Helens works.
The first welded aluminium hull (fabricated by Aluminium Ship Builders, Fishbourne, Isle of Wight) arrived at Hoverwork's St Helens works in August 2005 (see pictures below).
The first one, named 'Solent Express', was due to enter service on the Ryde Southsea route in 2006 - well this didn't happen, the first sight of the craft outside the workshop was February 2007 (see picture below), and at the Ryde Hovercraft terminal March 2007 (see pictures below) from where sea trials were conducted (see pictures below).
The 70 tonne BHT130 completed trials and received Maritime and Coastguard Agency approval - it entered cross-Solent service on 14th June 2007, 40 years to the day after the launch of the SR-N1 at Saunders Roe Cowes.
In July 2007, the 'Solent Express' was charter to Stagecoach for a two weeks trial on a new passenger service between Kickcaldy and Portobello across the Firth of Forth in Scotland - for more details see 'BHT130 in Scotland'.

Technical data:
29.3m long
15m beam
70 tonne all up weight
Service speed over water 45 knots
131 passengers
4 crew
Lift engines - 2 x air-cooled, turbo charged, MTU 12V2000-R1237K37 diesels - each producing 675kW
Propulsion engines - 2 x air-cooled, turbo charged, MTU 16V2000-R1637K37 diesels producing 899kW
2 x 3.5m diameter, five-bladed, variable pitch propellers for propulsion
see Griffon Hoverwork website for more details of this and other craft.
YouTube video clip of BHT130 leaving Ryde
---
Suna-X

A cargo/passenger version of the BHT130 was built by Kvichak Marine Industries in Seattle USA and launched in 2006. It is "one bay" longer that the BHT130 described above at 30.7m. Designated 'Suna-X', it is designed as a high speed ferry for up to 47 passengers and 47,500 pounds of freight to serve the remote Alaskan villages of King Cove and Cold Bay.






picture courtesy of NW Tech Service, Alaska

See also internal pictures

---

(Click on an image to get a larger version)

---

August 2005 saw the arrival of the welded aluminium hull at Hoverwork's St Helens works after being towed from Aluminium Ship Builders, Fishbourne, Isle of Wight where it had been fabricated.
---
February 2007 - at the St Helens' Works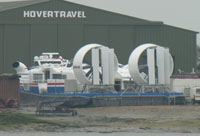 ---
March 2007 - at Hovertravel's Ryde Terminal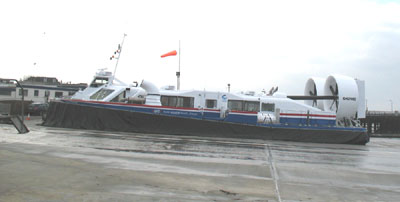 Port side

On the cushion at Ryde
(photo contributed by Mark Porter)
| | | |
| --- | --- | --- |
| Bow off cushion | | Coming into Ryde |

On the slipway with a couple of AP188s
---
BHT130 on sea trial - April 2007

BHT130 crossing behind AP188 coming into Ryde

---


June 2007

---

BHT130 at Southsea Hover Terminal


Arriving

Leaving
---