Cushioncraft Ltd.
The first craft in the series was built by Britten Norman (manufacturer of aircraft) in 1960 as "the Cushioncraft", subsequent it was renamed CC1. Originally based at Bembridge Airport on the Isle of Wight, production later moved to the Duver Works at St. Helens, these works gave ready access to the sheltered water of Bembridge Harbour.
In January 1962 a separate company was formed (Cushioncraft Ltd) as a joint venture with J. Samual White, shipbuilders of Cowes with the shareholding split 60% Britten-Norman Ltd and 40% J. Samuel White. However this didn't work out and White's withdrew in December of that year because 'active interest in the commercial building of hovercraft has not developed.'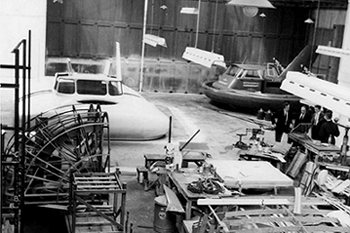 The Britten-Norman 'factory' (hanger) on Bembridge Airport circa 1961.
CC1 at right/back, CC2-001 left - John Britten left in group.
picture contributed by Rodney Harnett
In 1971, Britten-Norman encountered financial problems, and one result was that the Cushioncraft company was sold in 1972 to the British Hovercraft Corporation.
After Cushioncraft was taken over by BHC, the 'unique' fan lift/propulsion arrangement design of the later quiet Cushioncraft vehicles was allowed to quietly slip into history.
The Duver Works has since be used by Hovertravel/Hoverwork (more recently Griffon Hoverwork) as a maintenance centre. During the 1980s/90's the Duver Works was used to fit out the AP1-88 craft and BHT series produced by Griffon Hoverwork.
In 2012, Griffon Hoverwork transferred production from the Duver Works to their facility at Woolston on the River Itchen.
Between 1960 and 1972 Cushioncraft designed 6 models of which 5 were produced (whatever was the CC3 ??):
CC1

The 'second' hovercraft to lift off the face of the earth in June 1960 - note the lift 'fan' running around the craft - I guess you would have to watch how you stepped onto the craft if you wanted to keep your feet !

3 seater
18 ft 10 inch diameter
1 ton
40 blade lift fan built into deck, 2 helicopter tail rotors for propulsion
160 hp Coventry Climax engine driving both the propulsion rotors and the lift fan.


From Rodney Harnett:
" I saw the 1st flight of the CC1 and it was a great and very humorous occasion! It took off with about six guys all round the outside with ropes to steady it.
"When they eventually let go - it spun round and round down the slope of the land. They then had to get a huge crane from somewhere on the island to get it back into the hanger.
"This crane had very many trips to Bembridge Airport over the months. "

CC1 showing its ground clearance (12 to 15 inch). Desmond Norman at the control, John Britten left and Peter Gatrell right.

Note the 'landing' wheels just visible underneath.

Pathe video clip

CC2

Originally designed and built (1st test flight September 1961) without a skirt and using air deflection within the cushion for propulsion, the CC2 was heavily developed over the years with the addition of a skirt and two external engines each driving a propellor for propulsion. The 'bodywork' was also heavily modified.
See more CC2 pictures

Original spec:

11 passengers
30 ft long
17 ft beam
240 hp Rolls Royce LV8 engine
45 mph

Pathe 1963 video clip ofl CC2-002 + a longer video clip of out-takes.

Updated spec:

11 passengers
30 ft long
18 ft beam
50 mph
240 hp Rolls Royce LV8 engine

CC4



Developed by Cushioncraft jointly with Hovercraft Development Ltd, the CC4 was intended to be the first car sized craft to be put into production - this never happened. Subsequent to development use by Cushioncraft, the CC4 was sold to the NPL for future research, NPL renamed it HU-4.

6 seater,
24 ft 3 inch long
13 ft 9 inch beam
240 hp Rolls Royce LV8 engine

Lower picture, the CC4 at the Hovershow66.

CC5


thought to be a Cushioncraft publicity photo

Only one was built (first flight March 1966), and during tests off of Priory Bay it capsized and was written off in October 1966.

The CC5, together with an SR-N6, was used in the 1967 released Matt Helm thriller "Murderers' Row" staring Dean Martin.

6/8 seater,
45 mph,
29 ft long
15 ft 6 inch beam
4 x 3foot 6inch dia centrifugal fans giving both lift and propulsion.
240 hp Rolls Royce LV 841 engine




Pathe 1966 video of CC5 at St Helens
YouTube video clip from "Murderers' Row" showing CC5 chasing SRN6 around the Solent.

CC6

Although never produced, a CC6 design was produced circa 1966, this was a small vehicle/passenger craft (4 to 6 cars and 30 to 40 passengers) using the quiet centrifugal fan configuration for lift and propulsion developed from the CC4 and CC5.

40 kt (cruising)
75 ft long
33 ft beam
18 tons
2 x 1,850 shp Lycoming TF25 turbine engines

CC7





See more CC7 pictures

A development of the CC5, the CC7 was built in aluminium with inflatable side decks, first flight early 1967 - it was the first Cushioncraft to use a gas turbine engine (all previous having piston engines).

1 crew, 9 passengers,
35 kts (cruising speed),
24 ft 6 inch long
15 ft 2 inch beam
390 shp ST-6B free turbine engine

Pathe 1968 video clip of hovercraft tests including CC-7

A stretched version offering 17 passenger places was proposed after the company was taken over by BHC.