Vickers Armstrong
The Vickers Armstrong company entered the hovercraft field in 1961 based at South Marston, Swindon (subsequently the site of the Honda factory between 1985 and 2021), Vickers also had a trials base on the Itchen river, Southampton. Three craft were developed (plus the Hover Rover) and a fourth (VA-4) was proposed as a concept, it was very similar to the original Westland's SR-N4 concept.
In 1966 the Vickers' and Westland's hovercraft activities were merged to form the British Hovercraft Corporation (shareholdings - Westland Aircraft 65%, Vickers 25%, National Research and Development Corporation 10%) - the Westland's designs continued, the Vickers' designs did not. By 1971, Westland Aircraft had bought out both of the other partners and Vickers connection with hovercraft was at an end.
(Click on an image to get a larger version)
VA-1



Vickers Armstrong entered the hovercraft field in October 1961 with the VA-1 experimental craft mainly built of resin-bonded plywood

25 ft long

13 ft beam

lift 139hp de Havilland Gipsy Major

propulsion 133hp Continental C90




Pathe 1961 video clip of VA-1

VA-2



Built in 1962, this 5 seater hovercraft was designed to be easily dismantled for air freighting.

30 ft long
15ft beam
lift 2 x 133hp Rolls Royce 6 cylinder aero engines
propulsion 310hp Continental
60 knots

Pathe

1963 video of VA-2 in Sweden
VA-3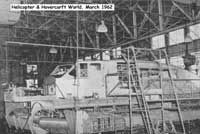 "Nearing completion in the Vickers-Armstrong South Marston works is the 10 ton VA-3 hovercraft which is designed to carry 25 passengers. This picture shows the structural details before the final skinning and decking hide them from view. Note the lift engines already mounted in the forward engine bay."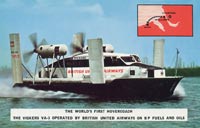 Launched in May 1962, the 25 seater VA-3 hovercraft ran the world's first commercial hovercraft passenger service in North Wales (across the Dee estuary) starting 20th July 1962 and operated by British United Airways.
Pathe 1962 video clip of the VA-3 roll out
Pathe 1962 video clip of VA-3

Shown above during the 1962 hovercraft passenger service operation with the original forward fins, these were later removed.
56 ft long
27ft beam
4 x 425 shp Bristol Siddley Turmo Free Turbines
- 2 for lift, 2 for propulsion (after the operation in North Wales, the 2 propulsion engines were changed to Artouste 2C engines)
60 knots
24 passengers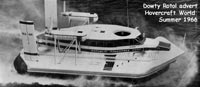 After the operation across the Dee estuary, the VA-3 was modified; a 3ft flexible skirt was fitted, the two propulsion engines were replaced by Artouste 2C engines, and the forward fins were removed.
In February 1964 the modified VA-3 was shipped to New York where trials were carried out by Republic Aerospace Corporation on behalf of the US Office of Naval Research. It is shown here in the Republic Aerospace Corporation livery. Later it was moved to Norfolk, Virginia for further trials.
On completion of the trials, the VA-3 was returned to Itchen in May 1965. (from the Hovershow 1966 issue of 'Hovering Craft & Hydrofoil')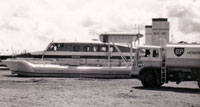 VA-3 hovercraft shown here in 1966 at Hovershow '66, 18th June 1966.
At sometime in the early 1970's, the VA-3 was deemed of no further use by BHC and, after removing the engines etc, she was scuttled in Mining Ground, near No Man's Land fort in the Solent.
VA3A concept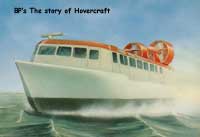 Intended to carry 94 passengers at speeds up to 80 kts.
VA4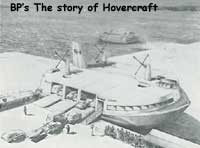 A 115 ton concept hovercraft - intended to carry about 500 passengers or 140 passengers plus 28 cars at 65 kts. At the time seen as direct competition to the Saunders-Roe SR-N4 hovercraft.
Hover Rover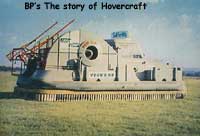 Vicker's attempt at a hover Landrover. A standard Land Rover with extended bodywork, used two fans driven from the standard engine. The skirt could be raised so that it could travel on wheels along a road or lowered "leaving the wheels in a lightly loaded state if they have to cross soft ground".
Pathe 1962 video of the Hover Rover