Hovermarine
Hovermarine was formed in 1965 and displayed at Hovershow '66 sidewall hovercraft with 30 to 60 seat capacity together with larger (car carrying) craft upto 300 tons. A licence for the use of HDL patented features was granted early 1967 with the prototype being completed in January 1968. In late 1967, Hovermarine tookover the Hovercat developed by the Manx Hovercat company.
The first HM-2 sidewall craft was operated by Seaspeed in 1968 between Ryde Pier Head and Portsmouth Harbour.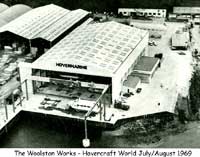 The factory was situated at Woolston, Southampton where the HM2 sidewall and Hovercat hovercraft were produced. In February 1969, the Hovermarine workshop was damaged by fire.
Red Funnel used an HM-2 craft in 1969 (hired from Hovertravel) between West Cowes and Southampton (according to their corporate website Red Funnel had two HM-2's operating up until 1982 mainly used for transporting shipyard workers between the IW and Vosper Thornycroft's Itchen yard but occasionally appearing on the schedule run).
The early HM2 suffered from mechanical problems and during a financial crisis in 1969, Hovermarine went into voluntary liquidation and the major assets were acquired by a new company, Hovermarine Transport Ltd, this was subsequently taken over by the American company,Transportation Technology Inc.
A 1976 book (Hovercraft and Hydrofoils by Roy McLeavy) states "Production of HM.2s for North and Central America is being undertaken by Hovermarine's factory at Titusville, Florida..."
Hovermarine vessels in Hong Kong
Hong Kong Ferry Ltd took delivery of four HM216, twenty nine HM218, and four HM527 craft which carry up to 200 passengers. The first HM216 went into service on December 18, 1974.
Discovery Bay Transportation Services also purchased six used HM218.
The last hovercraft service in Hong Kong ceased in 2001. The HM218's were sold on to Indonesia.
Thanks to Peter Chiu for this information.
In early 1980 the Vosper Group purchased 51% of the company which had been a wholly owned subsidiary of the Hovermarine Corporation and it became known as Vosper Hovermarine Ltd with 13,000 sq m of undercover production at 2 yards in Woolston, Southampton.
By 1988, the company name had changed to Hovermarine International, this company went into receivership in January 1997. Part of the announcement of the receivership included:
"In its prime the company employed more than 60 at its factory premises in Southampton, U.K., but reductions in light of falling demand resulted in a workforce of only 10 people at the date of receivership. Hovermarine has been involved in the design and manufacture of hovercraft, rigid side wall craft and fast ferries for more than 30 years and has reportedly sold more than one hundred of these vessels in more than 30 countries around the world. "
International Hovercraft Ltd. (IHL) acquired the assets of Hovermarine International Ltd. from the administrative receiver. Part of the announcement included:
"In excess of 110 craft -- primarily workhorse HM2 class -- have been built over a period of 25 years. This rugged design, which utilises a hull manufactured in composites with diesel power for both lift and propulsion, proved to be extremely adaptable. Special purpose derivatives of the HM2 design were produced for Tacoma USA and the Port of Rotterdam for firefighting, port surveillance, harbour patrol and hydrographic survey work. Craft have operated in more than forty countries and have proved reliable in service under extreme weather conditions. "
If anyone knows the details of the history of Hovermarine from 1969 to the end (or any part of it), please let me know because this is a missing piece of the story.
Various designs of hovercraft were proposed by Hovermarine, mainly sidewall craft although they did acquire and market the Hovercat amphibious craft developed separately as the Manx Hovercat. Over the years, Hovermarine produced well over 100 vessels which were operated all over the world.
Many years later (January 2011), Griffin Hoverwork relocated their factory to the site previously used by Hovermarine at Woolston, on the Itchen river. Incidently, the site was originally established in the early 1890's by the sons of Arthur White as White Brothers. Arthur being the son of William White of W. White & Sons of Vectis Works Cowes - no relation to J Samual White.
(Click on an image to get a larger version).
HM-2 (HM216)




cutaway diagram




The prototype HM2 was completed in January 1968.

51 ft long

20 ft beam

60 passengers

35 kt

lift - 185 bhp Cummins V8 diesel

propulsion - 2 x 320 bhp Cummins V8 diesels


HM2 under construction in the Woolston works

Pathe 1968 short video of HM2

See pictures of the Seaspeed passenger HM2 in the Solent (1968)

See pictures of HM2 operating in the Gulf of Aqaba (Red Sea), Jordan (2005) - (thanks to Philip Jones for these pics).

HM2 Mk3


(contributed by Paul Baker)
HM2 Mk3 used by the DTI for trials work in 1971/72.

Most of the work was conducted in the Solent operating out of Woolston with a short stint on the Thames where it was used to measure the extent of the wash generated by the HM2 with a view to it operating as a fast ferry on the river.

The HM2 was developed over the years into a series of craft of varying lengths and varying passenger capacities. These craft became known as the HM200 series. The original sized craft (above) became the HM216.

As passenger vessels, the others in the HM200 series included (the last two digits represents (roughly) the length of the craft in metres) :

HM218 (entered service 1976) - (5 side windows) 60ft long, 84, 92 or 103 passengers.

HM221 (built 1985) - (7 side windows) 21.19 metres, 112 to 135 passengers.




A couple of HM2 Mk4's are still in operation (2005) in the Gulf of Aqaba (Red Sea), Jordan - (thanks to Philip Jones for this information).

HM218

HM218 multi-role Harbour craft delivered 1979-1980 to the Port of Rotterdam Authority.
[top]
HM-4

concept (1966)




125 tons

350 passengers, 6 cars

160 ft long

68 ft beam

40 kt service speed




HM527

Series 1 - prototype launched January 1982

89 ft 3 in long
33 ft 6 in beam
200 passengers (split between 2 air conditioned saloons)
36 kt
lift - 1 (?) x 8V-92TIs GM diesel
propulsion - 2 x 1200 hp MTU 12V 396 TB83 diesels

HM5 Inshore military version (concept)
[top]
Hovercat




Developed by Manx Hovercat Ltd of the Isle of Man, prototype hovered on the Island March 1967 - taken over by Hovermarine in late 1967. The original wooden prototype (built at Cowes yard of David Cheverton and Partners) was designed by Robin Parkhouse of Chichester and Malcolm Beckingham of Bognor. Hovermarine put it into production using GRP.

driver plus 3 passengers,

30 kt ,

28 ft long

12ft 11inch beam