Cushioncraft CC2
Originally build with a peripheral air curtain without a shirt to give a daylight clearance of some 11 inches and forward propulsion was provided by defector vanes in two longitudinal rows under the craft. Subsequently a skirt was added and two external propulsion engines. These 1963 Pathe video clip ofl CC2-002 + a longer video clip of out-takes show the CC2 in original configuration being put through it's paces. .

see this page for other Cushioncraft hovercraft.
(Click on an image to get a larger version)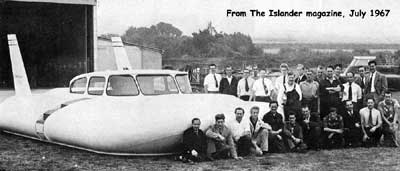 CC2 and builders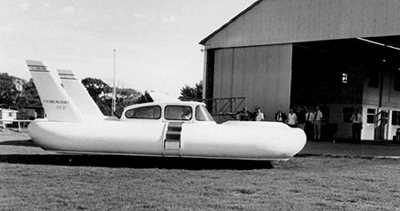 First flight of CC2-001 at Bembridge Airport in front of hanger - picture contributed by Rodney Harnett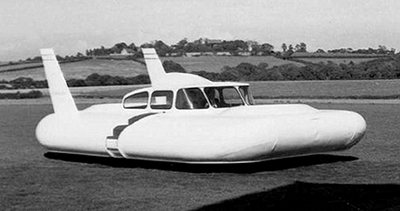 Another first flight of CC2-001 picture contributed by Rodney Harnett
Advert for CC2 cushioncraft March 1962 (£25,000 !!)

CC2-001 and 002 were sold to the Ministry of Technology and were based at the Royal Aircraft Establishment at Bedford.

CC2 cutaway
CC2 -003 at St Helens 1967 with sides sections removed - waiting shipment to Libya for 'sand filter tests'. The tests were carried out by Bristol Siddeley on a contract from the UK's Ministry of Technology - a SRN5 was also involved with these tests.

February 1970
CC2 - 001 heavily modified - the original CC2 had solid skin along the sides .
This modified CC2 (shown here at the Duver Works, St Helens), shows non-solid sides (presumably to save weight), a skirt and two externally mounted propulsion engines/props (shown below).
---